Paparazzi Coverage
(Back to coverage listing page.)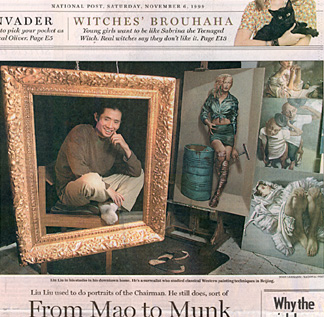 TITLE: "From Mao to Munk",
MEDIA: National Post,
DATE: November, 1999,
WRITER: Thomas Hirshmann
EXCERPTS:
Although critics have compared him to the Italian baroque artist Caravaggio, he prefers the neoclassic work of Ingres. "He is very picky, " says Mr. Liu of the French painter's precise technique.


He uses just three colours: sienna, yellow, and Prussian blue, with the requisite black and white for shading.


Artist Lui Liu jugggles stores of mingling with Toronto's jet set and of living in communist china with the kind of balance expected of a classically trained artist. Democracy and dictorship. Munk and Mao.


In the six years since he and his wife settled in Canada, he has built a following of devout collectors in the U.S., Europe and here at home.


Lately, Mr. Liu has increasingly used the surreal to explore ideas. His paintings are full of irony and humour, often emphasizing the hands, which he feels to be the most egalitarian vessels of communication. The desire for balance, the adherence to tradition and his egalitarian views al come out of his Chinese upbringing. The vivid expression is very Western. "It's organic. It's in him. I don't see him consciously blending Eastern and western styles," says Ms. Zheng.