Paparazzi Coverage
(Back to coverage listing page.)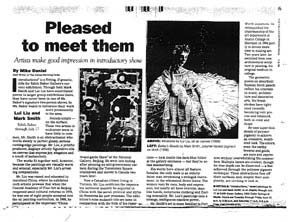 TITLE: "Pleased to Meet them",
MEDIA: Dallas Morning Post,
DATE: July 9, 1999,
WRITER: Mike Daniel
EXCERPTS:
Mr. Liu, prolific producer, displays strictly figurative oils on canvas that express joy, elegance and a touch of melancholy.


Mr. Lui was raised and educated in mainland China, where he exhibited such artistic prowess that when the Central Academy of Fine Art in Beijing reopened amid cultural reforms in 1978, he was one of eight people accepted into the oil painting curriculum. In 1989, he participated in the important "China Avant-garde Show" at the National Gallery, Beijing. He went into hiding after panning an anti-government cartoon during the Tiananmen Square crackdown and moved to Canada two years later.


Now a Canadian citizen living in Toronto, Mr. Lui combines the impeccable technical mastery he acquired in China with the social, political and stylistic freedoms he now possesses.


Mr. Lui's paintings ooze a strange, ambiguous emotive power.