Paparazzi Coverage
(Back to coverage listing page.)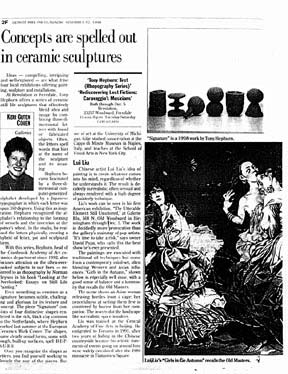 TITLE: "Lui Liu",
MEDIA: Detroit Free Press,
DATE: November 22, 1998,
WRITER: Keri Cohen
EXCERPTS:
The result is decidedly surrealistic, often sensual and always rendered with a high degree of painterly technique.


The paintings are executed with traditional oil techniques but come from a contemporary mind-set, often blending Western and Asian influence. "Girls in the Autumn, " shown below, is especially well done, with a good sense of balance and a luminosity that recalls the Old Masters.


The scene shows an Asian woman releasing beetles from a cage; her peacefulness at setting them free is countered by horror from her companion. The insects dot the landscape like surrealistic space invaders.