Paparazzi Coverage
(Back to coverage listing page.)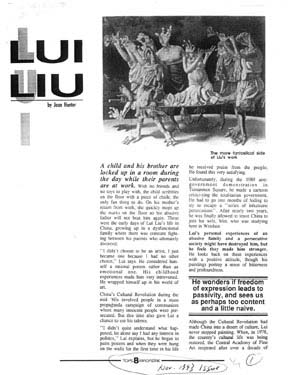 TITLE: "Lui Liu",
MEDIA: Tops,
DATE: November, 1993,
WRITER: Joan Hunter
EXCERPTS:
"I didn't choose to be an artist, I just became one because I had no other choice," Lui says. He considered himself a rational person rather than an emotional one. His childhood experiences made him very introverted. He wrapped himself up in his world of art.


I didn't quite understand what happened, let alone say I had any interest in politics," Lui explains, but he began to paint posters and when they were hung on the walls for the first time in his life he received praise from the people. He fond this very satisfying.


Lui's personal experiences of an abusive family and a persecutive society might have destroyed him, but he feels they made him stronger. He looks back on these experiences with a positive attitude, though his paintings portray a sense of bitterness and profoundness.


Lui feels, as an artist, he must have a good command of skill and technique and not become too self-centred. He dislikes the statement he often hears from other artists, " I paint for myself. I don't care if people like it or not". He believes a good artist has to include the public, inviting them to share his feelings and to accept his work. He has the same emotions as the rest of society, but he expresses them through his paintings.