Paparazzi Coverage
(Back to coverage listing page.)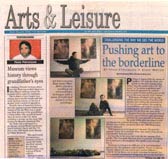 TITLE: "Pushing Art to the Borderline",
MEDIA: Observer & Eccentric,
DATE: November 15, 1998,
WRITER: Frank Provenzano
EXCERPTS:
With many of today's cutting-edge artists exploring issues of gender, self-identity and turning the materials of art into its own subject, the seeming inaccessibility and esoteric nature of contemporary art could be a consequence of individualism gone awry.


At least this is the provocative view of Lui Liu, one of China's most promising painters who immigrated to Canada.


"Everyone is trying to be different, to be individualistic," said Lui Liu, "It's excessive individualism. There's no way in Chinese culture you can stand apart and be different."


Yet for all his desire not to draw attention to himself, Lui Liu is gaining international recognition for his extraordinary painterly technique and interpretive skills.


In subject matter and emotive power, Lui Liu's paintings and sculptures present a masterful technician whose layered work contains a raw eroticism, subtle sensuality and sheer compositional deftness.


True to Lui Li's Eastern aesthetic influences, each line, stroke and gesture are inextricably related.


What is undisputed is Lui Liu's brilliant technique and expressive range that critics have compared to Surrealists Rene Magritte and Salvador Dali.


And his work also shows unmistakable influences of western painters from Holbein to Caravaggio to Courbet.


In particlar, Lui Liu's realistic painting of bare-breasted women with famous faces (Marilyn Monrow, Princess Diana, Jackie Kennedy Onasis and Mona Lisa) is a modern-day mythical interpretation of Theodore Gericault's famous "The raft of medusa," circa. 1819. Part philosopher intent to bridge differences between East and West, part social critic focused on overturning meaningless traditions, Lui Liu is surprisingly nonconfrontational and unassuming.


He speaks in a quiet, thoughtful tone, often quoting western philosopher Ludwig Wittgenstein's notions of truth and language. The power of Lui Liu's work, however, cannot be distilled to any particular tradition. " I don't try to be ancient or modern," he said. On the contrary, Lui Liu contends that artists are mere conduits for culture. "You can't say you're an artist and you're different from others," he said. "I just want to accept what comes to my mind. I don't feel I have to understand as long as the mystery is there."