Paparazzi Coverage
(Back to coverage listing page.)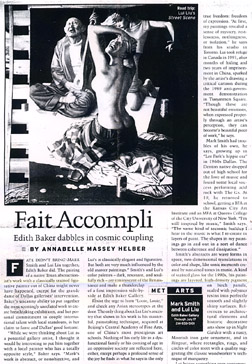 TITLE: "Fait Accompli",
MEDIA: Met Magazine,
DATE: June 23, 1999,
WRITER: Annabelle Massey Helber
EXCERPTS:
Resist the urgeto hum "louie, Louie," and check any Asian stereotypes at the door. The only thing about Lui Liu's ancestry that shows in his work is his masterful, painstaking technique, acquired at Beijings's Central Academy of Fine Arts, one of China's most prestigious art schools.


Nothing of his early life in a dysfunctional family or his coming of age in an oppressive society are reflected here, either, except perhaps a profound sense of the joy he finds in what he says is the only true freedom: freedom of expression. "At first, my paintings revealed a sense of mystery, restlessness, nothingness, or isolation," he says from his studio in Toronto.


Lui brings something very contemporary to the faces, expressions, bodies, and hand gestures of the striking women he paints. Although the style is old-master influenced and painterly, his figures wear slinky satin lingerie in Interval or a sassy, silver-leafed headband in Mirabella. The work is very seductive, enticing viewers with provocative lances and milky skin.


Lui's backgrounds in Moonlight and Flute Girls are hazy and unreal, a throwback to a previous passion for painting surreal, humorous, and slightly bitter images.